THE TRUTH ABOUT FENTANYL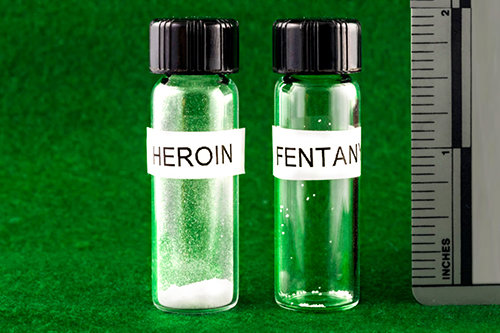 What makes heroin's synthetic cousin, fentanyl, one of the deadliest drugs in the world?
"Dealers are lacing cocaine and heroin with fentanyl, and young adults are dying in significant numbers. It is an epidemic. Horrific," says a registered nurse in New Zealand. Indeed, while there has been a downward trend in deaths from prescription opioids alone, overdose deaths from fentanyl have risen dramatically, up 540 percent in three years.
Fentanyl is a synthetic opioid painkiller, prescribed to treat severe pain. It is a cousin to heroin, but much deadlier because it is much stronger—50 times more potent than heroin, according to the Centers for Disease Control and Prevention. The photo to the left shows a lethal dose of heroin, at about 30 milligrams, compared to fentanyl, a dose of only 3 milligrams. In fact, rescuers responding to overdose calls have to be careful—just touching it or inhaling it can be deadly.
Fentanyl owes its potency over heroin to differences in chemical structure. Both chemicals bind to the "mu opioid receptor" in the brain. But fentanyl gets there faster than heroin because it more easily passes through the fat in the brain. It also grabs onto the receptor so tightly that it doesn't take much to trigger the opioid effects in the body.
As fentanyl is a fine powder, it is easy to mix into other drugs. It looks identical to heroin, so users, injecting heroin laced with fentanyl, won't know they're injecting a lethal dose until it's too late.
---
WE

really

WANT TO HEAR FROM YOU
Teachers and educators who use the Truth About Drugs curriculum have a lot to say about how youth respond to the program. Here is the most recent feedback.
HEALTH TEACHER
"I love this program! The students really get a look into what an actual user experienced and what the consequences are, then and now. It is very powerful. Thank you for distributing this!"
FAMILY AND CONSUMER SCIENCES TEACHER
"Thanks for all you and the people at Drug-Free World do. I think the program is the best I've ever used."
SCHOOL LIAISON OFFICER
"I cannot tell you how impressed I am with the pamphlets that were sent to me. The kids are giving me such positive feedback, as well as the parents. I even have one elementary student that shared the info with her older sister in middle school."
SCHOOL COUNSELOR
"These materials are up-to-date, engaging, relatable and impactful! My students were completely engaged while watching the documentary chapters, which elicited a lot of meaningful conversations. My students also really enjoyed having their own copies of the information booklets and many took the time to reread and read ahead."
HEALTH AND LEADERSHIP TEACHER
"Your curriculum has been a blessing and wonderful gift to me and my students. It is presented in a way that my students accept it without hesitation. I do not have a budget for my health class. Any resources that I pick up come out of my pocket. Your free curriculum is priceless."
HEALTH TEACHER
"Tell your donors thank you from me. Your material has been the best teen-friendly information I have used in my classes!"
---
FACTS
THE TRUTH ABOUT DRUGS
The Truth About Drugs program includes an array of educational materials.
14
BOOKLETS
teaching the truth about the most commonly abused drugs
17
SHORT VIDEOS
dispelling the most common lies dealers tell potential users
111
MINUTES
of documentary film, featuring former addicts sharing their stories
22
LANGUAGES
in which the Truth About Drugs materials are translated and available
16
MILLION BOOKLETS
distributed in the last year alone
---
SAVE YOUNG LIVES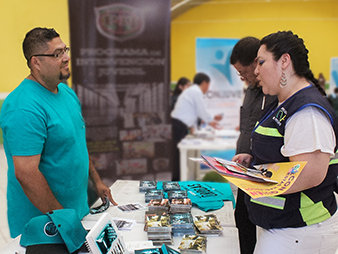 Support the Foundation for a Drug-Free World and help protect young lives from the destructive effects of drugs. Your contributions enable us to make our educational materials available free of charge to schools, youth organizations and other groups and individuals. Your support helps empower people with the facts they need to live healthy, drug-free lives.
---