DRIVING YOUTH TO LEAD DRUG-FREE LIVES THROUGH EDUCATION
BOSTON, USA
20 September 2019
Darren Tessitore lost seven friends to drug abuse before he was 15. To ensure youth across America don't fall into the same trap, he partnered with driver's education instructors to reach kids before drugs do.
Darren Tessitore, Ambassador for Drug-Free World (DFW), is on a mission to reach every youth in the US with the facts about drugs. His mission is born out of unfortunate personal experiences. Tessitore was introduced to pot in his early teens, soon moving on to harder drugs. He became a regular visitor to his hometown police station, and not for good reasons. But, after one too many friends died from overdoses, he knew he was on the wrong track and wanted to make a difference instead.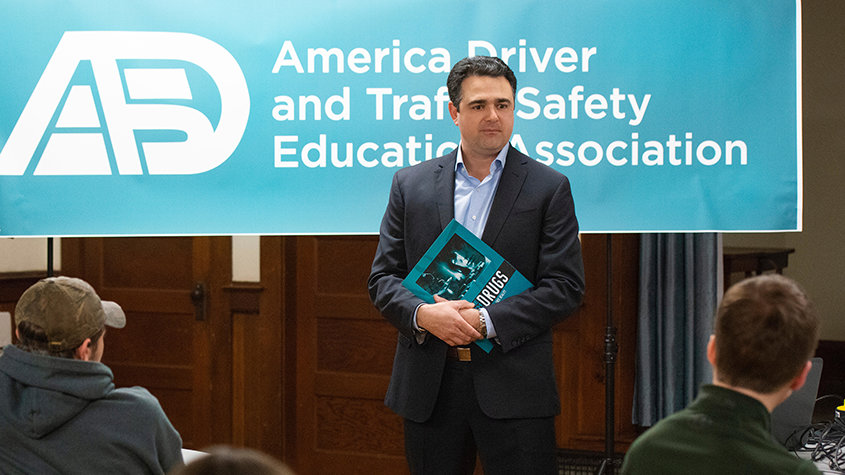 "Millennials are drinking more than ever. There are just so many drugs available right now. People die from these drugs. That's how it works. 'Oh cool, I'll get a little high.' Next thing you know, they have a heart attack or they get knocked out or they get behind the wheel of a car and they crash," Tessitore says. Evidence of that fact are the more than 70,200 Americans who died in 2017 from drug overdoses—a twofold increase in a decade.
"Drugs are a major epidemic. The proper education is what's going to turn the tide on this," he adds. Now a father of three girls, Tessitore says, "I remember thinking to myself, 'I can't let that happen.' Not only to them, but to anybody."
However, he needed to find an avenue to reach youth across the US. In 2010, he found his solution when invited to host a DFW booth at the New England Driver's Education Convention. "I remember the table literally getting flooded with everyone in that room. There were probably 200 people there, and they all just came running over to our table and were like, 'Who are you guys? What is this material?'" Tessitore found out that driver's education classes require drug and alcohol training.
He therefore contacted the President of the Driving School Association of the Americas and introduced him to the campaign, which led to an invitation to their national convention. "We're going to be training driver educators, because they actually have the ability to reach all of these kids across the country right before they start doing drugs."
He presented the program and all its materials, resulting in hundreds of driver's education schools signing up for the curriculum. Soon, he and his youngest daughter, Sandra, were going state to state delivering seminars to driver's education associations on how to use the materials, reaching 29 states in all.
To learn more about Darren Tessitore's work, watch Scientology.tv/DTessitore.