SHARING TYLER'S LIGHT, IN SPITE OF HIS DEATH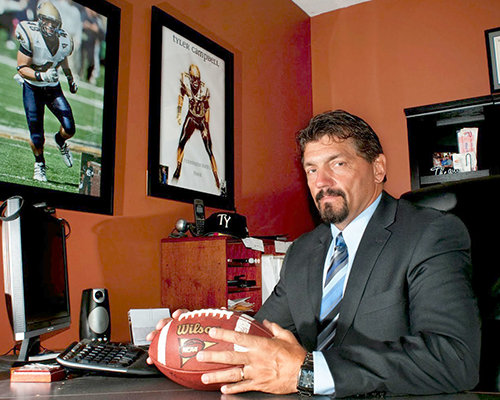 Tyler's father, Wayne Campbell, who lost his son to a heroin overdose, has made drug education his mission and passion.
Since Tyler was a boy, he dreamed of playing professional football. That dream began looking more like a reality when he was invited onto the team at the University of Akron in Ohio, and soon earned himself a scholarship. He excelled at Akron and even had a week of glory as the leading tackler in the National Collegiate Athletic Association (NCAA).
"Nagging injuries started to set in. He had a shoulder issue, then it was his ribs," says his father, Wayne Campbell. "Somewhere along the way, there were narcotics, prescription pills, you know, after games for the players that were beat up to relieve the pain."
After a shoulder surgery and a Vicodin prescription, Tyler became addicted to painkillers. Then heroin.
It was the day after Tyler returned from one month of rehab, when Campbell and his wife were relieved to have their son home and "normal" again. They slept like babies. Then, Wayne got a call at work from Tyler's younger brother. "Dad, mom can't wake Tyler up," he said. "We think he did drugs."
In the night, Tyler had died of a heroin overdose.
Campbell decided no parent should have to endure such loss and founded the nonprofit Tyler's Light within two weeks of his son's death. "Tyler was a gift to all those who knew him and his light will shine on. As Tyler would want, we will not carry on without him, but we will carry on for him," writes Campbell on the organization's website.
"I wish we'd have known more. I guess I wish we were educated parents. But we weren't. So we're trying to educate as many people as we can."
Under the banner of "Speak Up, Save a Life," Tyler's Light equips youth and parents with the education Campbell's family didn't have to prevent drug abuse and save lives.
"Educating the public is the key to preventing addiction and it has become my passion," says Campbell.
Accordingly, Campbell participated in the documentary Locker Room Addiction, sharing Tyler's story alongside Tyler's friend, who also turned to heroin after developing an addiction to painkillers prescribed for football injuries.
For Tyler's Light, Campbell created an Emmy award-winning video of his own depicting the dangers of drugs and alcohol, and delivered presentations to schools throughout Ohio and beyond. He shared his story and reached more than 43,000 people.
"Don't try to do it in the dark by yourself," says Campbell about dealing with drug abuse. "There is a lot of help out there."
Searching for literature to use in his presentations, Campbell found one such source of help. "We found the website, Drug-Free World, and the marriage was there," he says.
In the two years that followed, Campbell distributed 92,000 copies of The Truth About Drugs booklets in six states, and introduced a number of other fledgling organizations to the program. He says that, after each one of his hard-hitting presentations, he gives out the booklets to keep the conversation going. He adds that the materials are factual, comprehensive and cover all bases in every community, no matter the socioeconomics or the local drugs of choice.
"I wished we'd had literature like this in front of us, easy to get to," he says. "I wish we'd have known more. I guess I wish we were educated parents. But we weren't. So we're trying to educate as many people as we can."
---
DONATE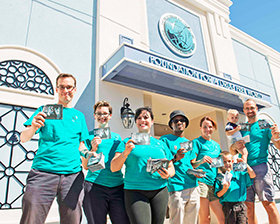 Support the Foundation for a Drug-Free World and help protect young lives from the destructive effects of drugs. Your contributions enable us to make our educational materials available free of charge to schools, youth organizations and other groups and individuals. Your support helps empower people with the facts they need to live healthy, drug-free lives.
---