10 DAYS TO SAY NO TO DRUGS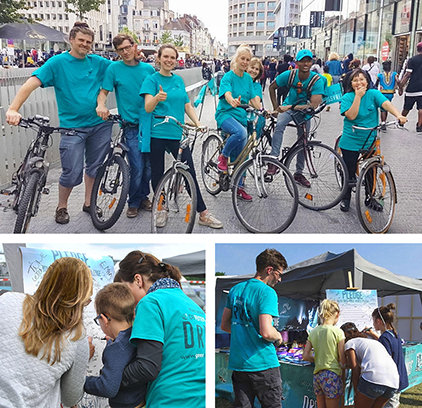 DFW Belgium joins chapters in 24 countries to recognize the International Day Against Drug Abuse and Illicit Trafficking.
Since 1987, the United Nations International Day Against Drug Abuse and Illicit Trafficking has been celebrated on 26 June the world over. The purpose of the day is to strengthen action and cooperation to achieve the goal of an international society free of drug abuse.
Therefore, Drug-Free World (DFW) chapters in 24 countries and 90 cities donned their teal T-shirts and filled their DFW tote bags with booklets from the series of 14 The Truth About Drugs booklets. They hit the streets, beaches, parks, sports games and anywhere else masses of people gather, so as to reach children, teenagers, families and everyone in between with the real facts about drugs.
One example of this outreach was the Drug-Free World Belgium team. They launched a "10 Days to Say NO to Drugs" tour June 16 to 26.
Their first day started in Antwerp, a city in the north of Belgium. A booth was placed outside Antwerp's Central Train Station ultimately reaching more than 3,500 commuters with booklets to take on their trips wherever they may go. One such commuter had arrived by train specifically to get drugs, as he was told Antwerp was an easy place to obtain such, and instead he left to go back home with a copy of The Truth About Drugs booklet in hand and new plans to live a clean life.
They moved south to Molenbeek where drug use is rife. They therefore placed their booth at the Étangs Noirs metro station and gave out 3,300 booklets to passengers and shops. Those reached included a schoolteacher who not only picked up booklets, but a Drug-Free World Education Package, providing all a teacher needs to reach their students with the truth about drugs. One shopkeeper asked for more, as the booklets he had received were going too fast.
The 10-day tour included a bicycle junket through Belgium's capital city of Brussels, where the team visited more than 100 shops which took bundles of booklets to then give out to their customers. Bike riders also stopped at the Porte de Namur metro station, at the Place de la Monnaie square and along Rue Neuve pedestrian street where thousands pass every hour. A nurse contacted by the DFW team had been caring for patients who were often drug addicts or even drug dealers. She immediately took booklets for them and got the website address to order even more as she needs them. Another was so supportive of the team's work, that he took one of the teal tote bags full of booklets and began distributing shop to shop.
The 10-day tour included a bicycle junket through Belgium's capital city of Brussels, where the team visited more than 100 shops.
The next day, the team progressed west to Ostend city on the English Channel coast, where beachfront restaurants and shopkeepers took booklets. One café shared their struggle with the common use of cannabis in the area and people trying to snort cocaine right there in the café. Therefore, The Truth About Cocaine was distributed directly to customers. Some shopkeepers were already distributors of the booklets and asked to get restocked every week, because they gave them out so fast.
In another Flanders city, during the Kontichleeft festival, the Deputy Mayor for Sports held an interview on the local radio, Zuidrand Kontich. He spoke in front of the DFW booth, explaining they were there to give youth the truth about drugs.
In total, more than 55,000 Drug-Free World materials were distributed across Belgium, with more than 500 shops now having booklets for their customers. To further the message to thousands more, it went out through media, with a TV show and five radio interviews broadcast.
---
SAVE YOUNG LIVES
Support the Foundation for a Drug-Free World and help protect young lives from the destructive effects of drugs. Your contributions enable us to make our educational materials available free of charge to schools, youth organizations and other groups and individuals. Your support helps empower people with the facts they need to live healthy, drug-free lives.
---