CANADA DAY PARADE SENDS OUT THE TRUTH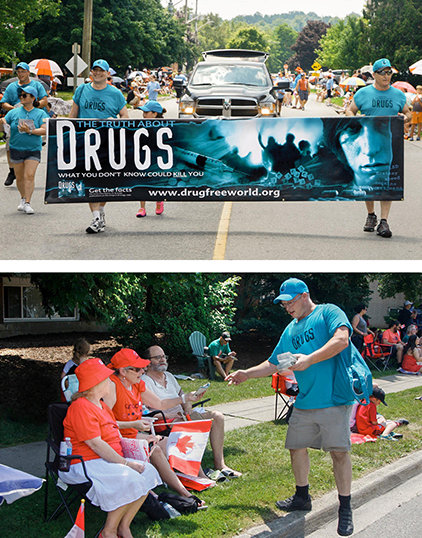 Drug-Free World Canada joins Canada Day Parade to tell youth the truth about drugs.
Canada Day is celebrated every year on July 1. It commemorates the joining of Canada's original provinces as one nation in 1867.
However, the now sovereign nation of Canada is in the midst of its own drug and opioid crisis, and while "harm reduction" seems to be the watchword of those grappling with it, Drug-Free World Canada is focused on demand reduction. Their strategy is to educate youth in the truth about what drugs are and how they harm a user so they can decide for themselves to never even try taking them.
That is why the Canada Day Parade, family-friendly and brimming with children, was a perfect avenue to get the message out, especially in Cambridge.
An hour's drive from Toronto—Canada's largest city—Cambridge is a city where more people died from overdoses per capita than in nearby Kitchener and Waterloo.
Therefore, at the Cambridge Canada Day Parade, 15 DFW volunteers joined in with a banner proclaiming, "The Truth About Drugs: What you don't know could kill you." They marched with other humanitarian organizations and families as they paraded through Cambridge's streets. All the while, they distributed The Truth About Drugs booklets to the more than 7,000 in attendance, and especially to youth. After the parade, DFW had a booth with more materials for residents and a bouncy house and barbecue for families to appropriately celebrate the day.
---
WE REALLY WANT TO

HEAR

FROM YOU
Here is what US school resource officers, responsible for safety and crime reduction, have to say about the Truth About Drugs.
SCHOOL RESOURCE OFFICER, CALIFORNIA
People get tired of me talking! My favorite saying, and one that I use all the time is, "No one says, 'When I grow up I want to be a drug addict.'" These are the perfect materials to give.
SCHOOL RESOURCE OFFICER, ARIZONA
I can give the materials to kids and parents and teachers, and it is something that no one else has as a resource. We always have your materials with us. You have done the research and the materials have it. Once we got your materials, we wouldn't use anything else.
SCHOOL RESOURCE OFFICER, ARKANSAS
The most important result I see with using this program is that it opens kids up to the reality of why they shouldn't be using drugs. It doesn't just tell them what could happen if they choose to go down the path of using drugs. The students are receiving the information in fact form and hearing it from recovering addicts. It makes it so much easier to get the class engaged in the lesson than trying to start from the ground up.
SCHOOL RESOURCE OFFICER, TEXAS
The materials help by being easily given out at outreach events at schools, churches, etc. It helps our community by educating and informing them of the dangers of drugs.
SCHOOL RESOURCE OFFICER, NEVADA
I believe I have been able to help some children make better choices and not go to drugs. There are so many of the children that I contacted who had no idea about the truth about drugs and now they understand the dangers.
---
FACTS
KIDS ON DRUGS
The purpose of Drug-Free World is to reach kids before drugs do, and here is why:
11%
OF ALL ALCOHOL
consumed in the United States is done so by young people aged 12 to 20
35%
OF STUDENTS
in the European Union engaged in heavy episodic drinking in a one-month period
35.1%
OF 12TH GRADERS
in America smoked pot in the last year
13%
OF PEOPLE
who start smoking pot as teenagers become dependent on it
50%
OF TEENS
are less likely to use drugs when they learn about drugs from their parents than those who don't
---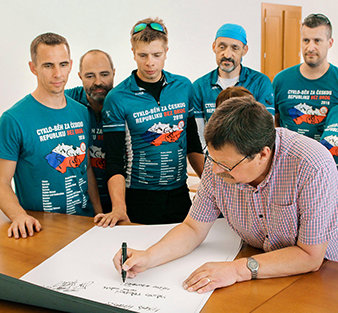 SAVE YOUNG LIVES
Support the Foundation for a Drug-Free World and help protect young lives from the destructive effects of drugs. Your contributions enable us to make our educational materials available free of charge to schools, youth organizations and other groups and individuals. Your support helps empower people with the facts they need to live healthy, drug-free lives.
---