MAKING SUMMER SAFE FOR PORTLAND KIDS
DFW supports the North Precinct Police Bureau's efforts to make Holladay Park safe.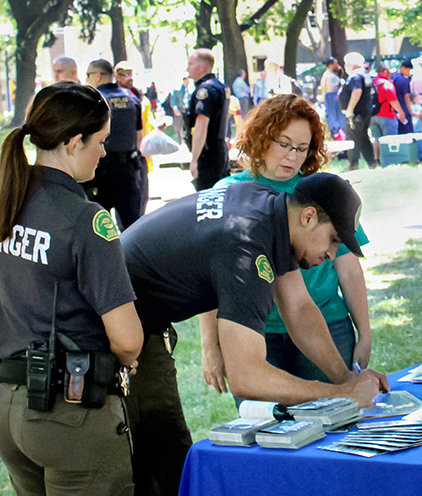 Concerned over the volume of 911 calls to Holladay Park in Portland, Oregon, this past summer the North Precinct Police Bureau engaged the community to take action. The result was the 2019 Holladay Park Safety Plan—a city and community collaboration to create activities to make the park safe and the summer enjoyable for local families.
As an official collaborator of the Safety Plan, the Church of Scientology Portland brought in Drug-Free World Portland volunteers to set up a booth at the launch of the summer initiative held in Holladay Park. Because of the Church's sponsorship, DFW Portland was able to make available—free to residents and police alike—the Truth About Drugs materials which are designed to cut the demand for drugs from the start by educating youth before they turn to drugs. Less demand means fewer drug dealers and, naturally, fewer crimes.
Law enforcement is keenly aware of the relationship between drugs and crime on a daily basis. Drug prevention is an activity anyone may engage in to help make a difference on this urgent issue in their own communities. According to the UN Office on Drugs and Crime, every dollar spent on drug prevention can save up to $10 in future costs.
The aim of the Truth About Drugs campaign is to reach youth with factual information about what drugs are and what they do so they can make their own self-determined decisions on the subject.
---
WE REALLY WANT TO

hear

FROM YOU
Law enforcement officers know that youth educated about drugs are less likely to become future addicts and turn to crime.
POLICE OFFICER, ARKANSAS, USA
"The most important impact I see from using this program was opening up kids to why they shouldn't be using drugs. It doesn't tell them to 'Just say no.' It illustrates what could happen if they choose to go down that path. The materials make it so much easier to focus on getting the class engaged in the lesson rather than trying to start on this subject from the ground up."
POLICE CHIEF, WISCONSIN, USA
"These materials provide a wide variety of information on specific drugs that we see in our community. My officers have been able to pick up the course quickly for easy delivery, and we use it with 8th and 9th graders when they are starting high school."
LAW ENFORCEMENT, BRAZIL
"Your materials are resources to address this very dangerous issue. I noticed that the students were very interested in the materials and the information. Considering that the community that I work in is very needy, and many families benefit from the sale of drugs, this material shows the children the actual danger of drugs. My work with your program is very gratifying because I believe it is always possible to change the direction of a person's life with the correct information."
POLICE OFFICER, KENYA
"The materials make it easy to eradicate substance abuse. They allow me to help the community understand the effects of drugs. These materials are the solution to end drug problems in my area."
POLICE OFFICER, SOUTH AFRICA
"I feel like a professional when I use these materials. I am able to raise awareness and educate people about how drugs will impact their lives. The booklets are very popular with both teachers and parents."
---
FACTS
DRUG-RELATED CRIME
It is incontrovertible that drug use and crime are related. Here are the US stats as one example:
#1
DRUG
found in the systems of those arrested for crimes was marijuana
$1
TRILLION
is the estimated economic impact on the US of illicit drug use in one year
18
PERCENT
of US federal prison inmates went to jail for a crime they committed in order to get drugs
EVERY
53
MINUTES
someone dies in an alcohol-related vehicle crash
63
PERCENT
of those arrested had at least one drug in their system at the time of arrest
---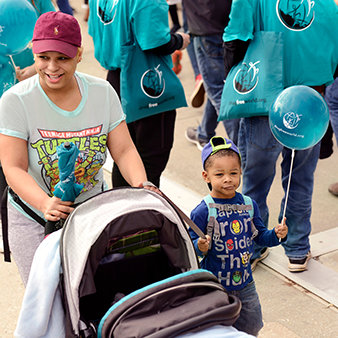 SAVE YOUNG LIVES
Support the Foundation for a Drug-Free World and help protect young lives from the destructive effects of drugs. Your contributions enable us to make our educational materials available free of charge to schools, youth organizations and other groups and individuals. Your support helps empower people with the facts they need to live healthy, drug-free lives.
---