NFL HALL OF FAMER MARSHALL FAULK KICKS OFF #KNOWLEDGEISPOWER CHALLENGE TO TACKLE THE DRUG CRISIS WITH EDUCATION
ARIZONA, USA
6 FEBRUARY, 2023
While Super Bowl LVII is kicking off in Arizona's urban heart, Marshall Faulk meets with 250 students in Phoenix to launch the challenge.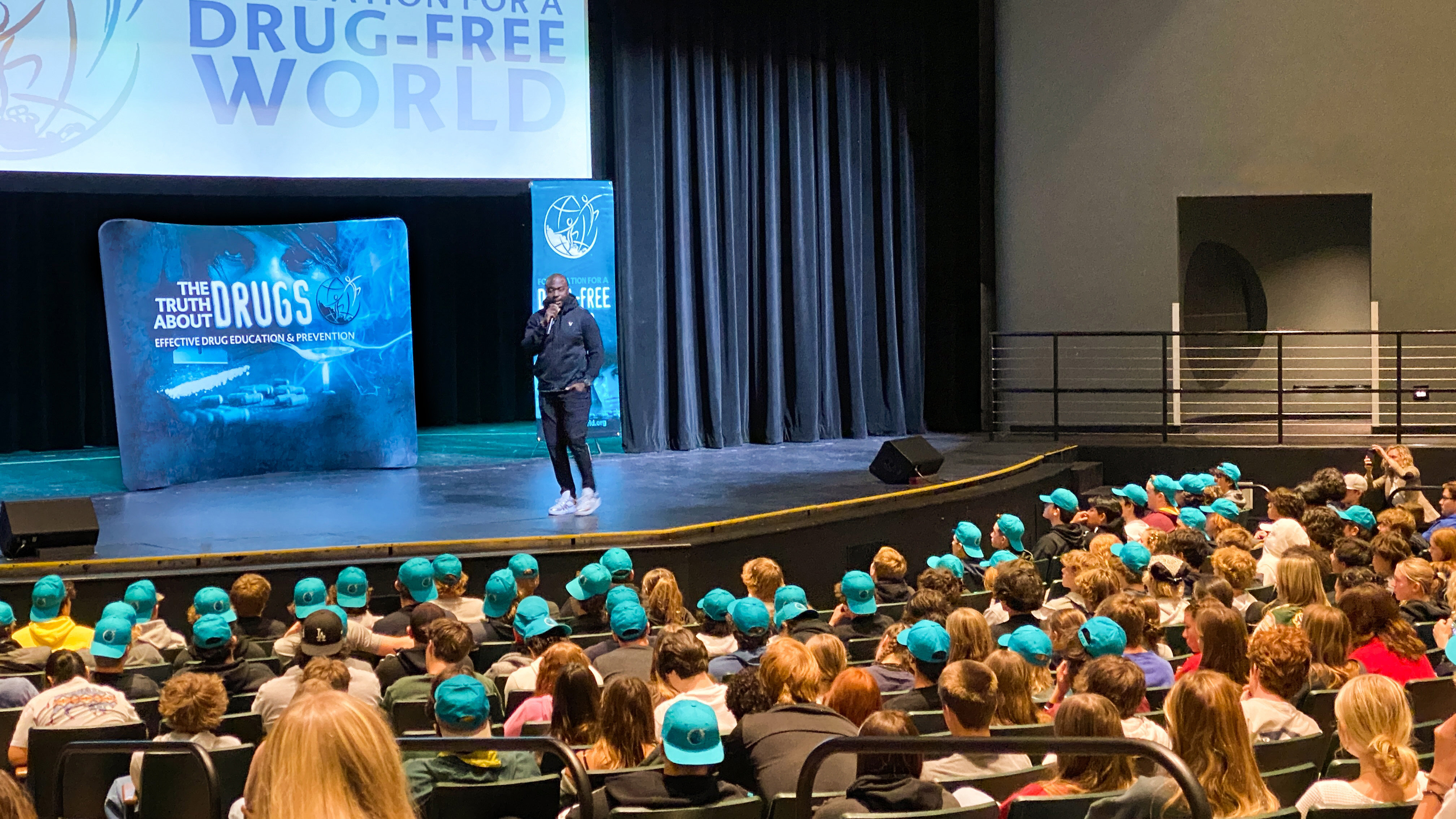 On the eve of Super Bowl LVII in Phoenix, Arizona, NFL Hall of Famer and national spokesperson for Foundation for a Drug-Free World Marshall Faulk shares a lasting and impactful message with students of a high school in Phoenix to encourage them to get educated on the subject of drugs—a once in a lifetime experience that students will never forget.
"Everything that we do in today's world, we gather all the information on it," says Faulk. "We Google it, we Yelp it, we do everything, we call somebody, we get all the information that is needed before we make a decision to do something. Why not do the same with drugs? Why not know what it is that you are putting in your body? Why not know what you are doing? Why not know what the ramifications of drugs are?"
Faulk gave this powerful message to 250 students who were eager and excited to listen to what he had to say about the current drug crisis. In Arizona, 2,770 people died from drug overdose in 2021, a figure that has skyrocketed almost 700 percent since 2014, chiefly caused by the ongoing fentanyl crisis. Per the CDC, in 2021 more than 100,000 Americans died from drug overdose.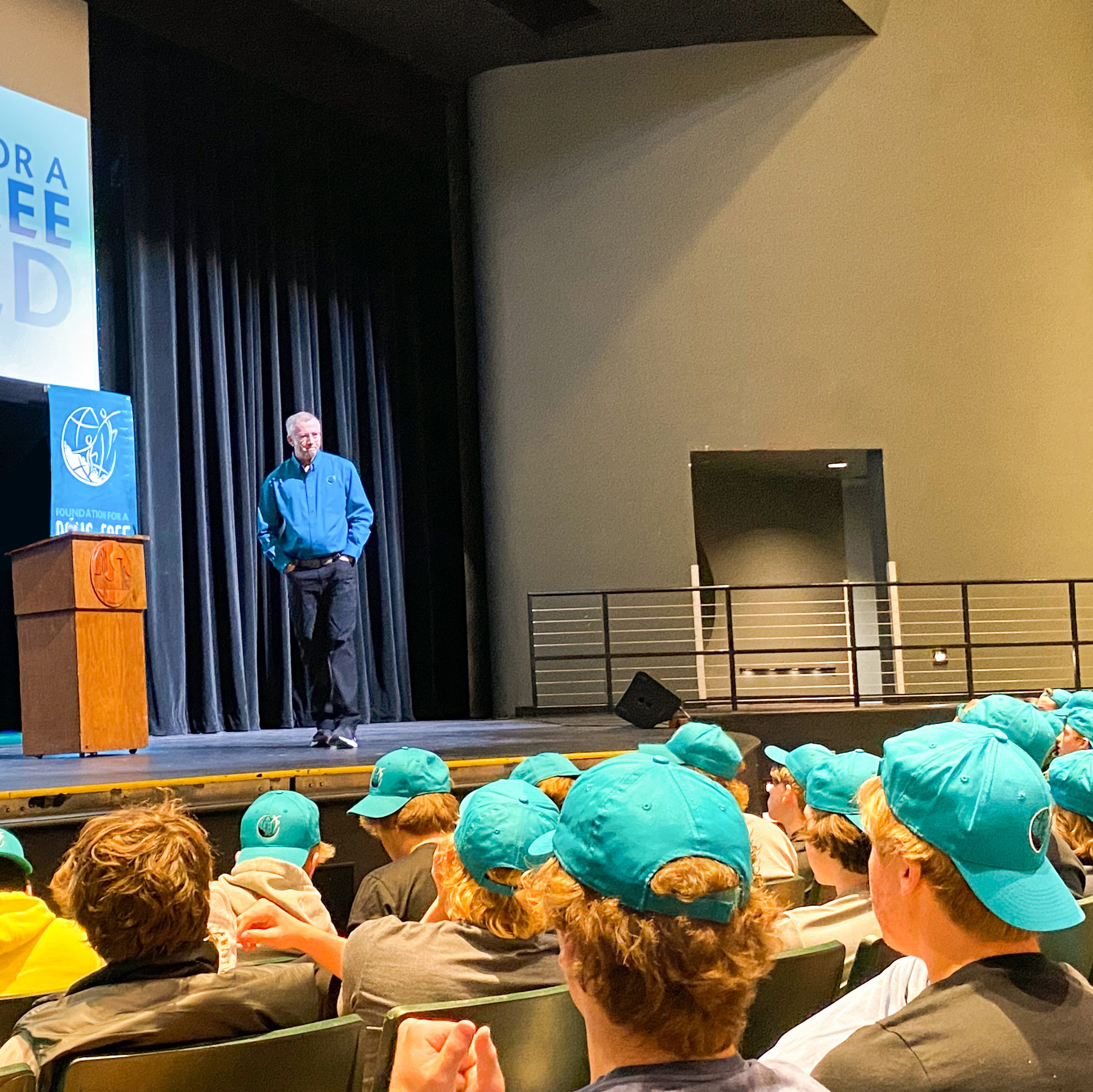 A survey just conducted by Foundation for a Drug-Free World found 47 percent of youth want to know more about drugs, their side effects and dangers. Faulk capitalized on this interest by reaching youth with factual information.
"Know why you are saying 'no,'" said Faulk. "Which means education. Understanding exactly what it's going to do to you. That is the important part of this."
Dr. Greg Londot, Arizona-based educator and Foundation for a Drug-Free World Advisory Board member, joined Marshall Faulk in addressing the students. He shared heart-rending stories on the ravages of fentanyl—the most common substance found in opioid overdose deaths in Arizona, with victims as young as 14.
Faulk kicked off the #KnowledgeIsPower challenge with the students in the audience: sign on to the drugfreeworld.org free online course, complete the assignments and get the chance to become the lucky winner of a football signed by Marshall Faulk.
Students had an immediate reaction, jumped on their phones and started the Truth About Drugs online course. Some immediately sent their personal story to Faulk, a number of them very emotional, such as this one:
"My whole life, my father has been addicted to drugs," writes one student. "I would constantly find needles and pills by his bed. I finished this [Truth About Drugs online] course with an open mind, hoping to learn something, and I did. I just want to say from the bottom of my heart, thank you so much for informing kids about how bad drugs really are. It brings tears to my eyes imagining more kids growing up like my dad."
You, too, can participate in this challenge by visiting drugfreeworld.org/mf.