FATHER-DAUGHTER TEAM TAKE ON DRUGS
Fighting an Opiate Epidemic in New York City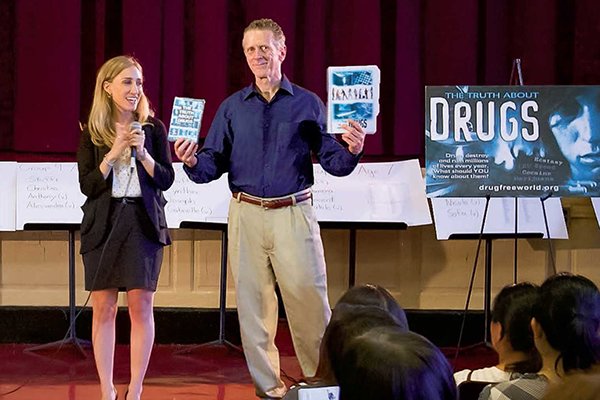 New York City is experiencing a heroin epidemic with fatal overdoses claiming more lives than homicides. Meanwhile budget cuts in schools have eliminated most drug education programs.
Bridging the gap are Ben Fialkoff and his daughter Meghan, co-founders of Drug-Free World New York. In 2006, they launched with a mailing to 200 after-school program directors, offering The Truth About Drugs seminars and materials. The avalanche of response sent Meghan traveling by subway to schools all over New York while enlisting other volunteers to help her meet the demand.
The enthusiastic, dedicated volunteers assembled by Meghan and her father brought The Truth About Drugs message and materials to every school on the list. Students and teachers raving about the program led to presentations to city officials and administrators in the New York Department of Education, New York Police Department, and to 50 directors of the City's Department of Youth and Community Development. This generated still more requests for Drug-Free World lectures in schools and communities.
As the program grew, the Fialkoffs and their team encountered many dedicated individuals and groups in the drug prevention community. To acknowledge and encourage their vital work, since 2007, they organized the Drug-Free Heroes Award ceremony annually. This award has been bestowed on some 50 community leaders, law enforcement and government officials in New York and New Jersey, shining the spotlight on their work to educate kids away from drugs.
By 2013, Drug-Free World NY was partnering with dozens of groups and agencies across the city. Miss New York 2013 learned of the program and joined Meghan as a special guest in classrooms, inspiring youth with the challenge to live successful lives without drugs. Miss New York 2014 followed her predecessor as a guest speaker at numerous Drug-Free World events.
The Truth About Drugs program is heavily utilized by various units of the New York Police Department (NYPD), with participation by the Police Athletic League, the Explorers and Youth Police Academy. After an initial group of 800 NYPD School Safety Officers were trained on The Truth About Drugs materials, the program grew to 10 workshops for 2,000 School Safety Officers in the Bronx, Staten Island, Brooklyn, Queens and Manhattan.
In its first decade, Drug-Free World New York has delivered more than 800 drug education and prevention events, collected 50,000 signatures on Drug-Free Pledges, and given The Truth About Drugs presentations to 61,000 students and teachers. The New York team has received hundreds of letters of recognition and proclamations—from the US Congress, New York State Assembly, New York City Council and others—for their contribution to drug prevention and education.
---
Children Pledge to Lead Drug-Free Lives
With the Foundation for a Drug-Free World
1. Living a drug-free life.

2. Showing my friends that a drug-free life is more fun.

3. Learning more about how drugs really harm people.

4. Telling people the truth about the harmful effects of drugs.

5. Helping my family and friends live drug-free.

6. Setting a good example to all by leading the way to a drug-free community.
---
DRUG EDUCATION SAVES LIVES
Support the Foundation for a Drug-Free World and help protect young lives from the destructive effects of drugs. Your contributions enable us to make our educational materials available free of charge to schools, youth organizations and other groups and individuals. Your support helps empower people with the facts they need to live healthy, drug‑free lives.
---