HUNDREDS OF THOUSANDS LEARN TRUTH ABOUT DRUGS AT EURO 2016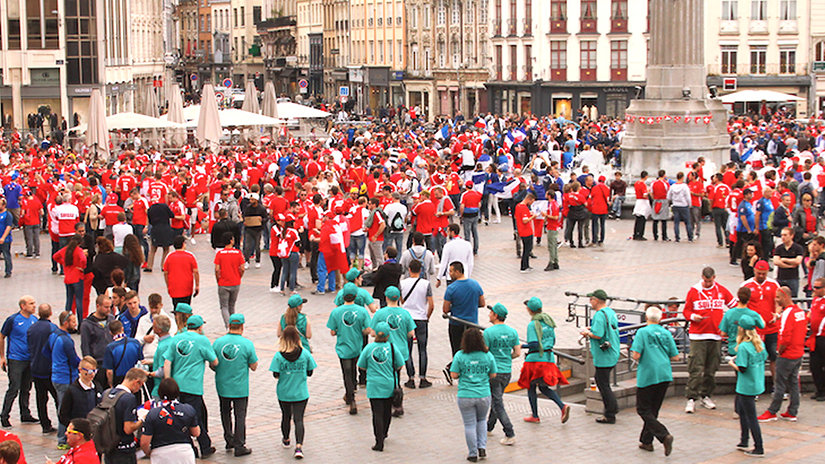 Volunteers from the Foundation for a Drug-Free World handed out 300,000 copies of drug education booklets during the Euro 2016 football championships.
A coalition of drug prevention activists in France spent a full month bringing the truth about drugs to hundreds of thousands of football fans and local residents during the Euro 2016 football championships.
The much-anticipated set of 51 games, which come around every four years, were played over the course of 23 days in stadiums across Bordeaux, Lens, Lille, Lyon, Marseille, Nice, Paris, Saint-Denis, Saint-Etienne and Toulouse. But around many such stadiums, alcohol and drug use was spurring fans to violence.
Euro 2016 presented the ideal opportunity to take effective action in reversing statistics like these: In France, lifetime prevalence rates for cannabis among people aged 15 to 64 increased from 22.5 percent in the year 2000 to 40.9 percent in 2014, while the use of cocaine, the second most widely used illicit drug in the country, has also increased steadily since 2000. Further, it is estimated that over 70,000 lives were lost to drug overdoses in Europe in the first decade of the 21st century.
"In France, media are making cannabis something normal," says one Paris-based Drug-Free World volunteer. "They call it 'risk reduction' and they say, 'You can take drugs, but be careful not to become sick.' But this is not real prevention."
Practicing real prevention, volunteers launched their month-long distribution with a large-scale free concert at the base of the Eiffel Tower. As they distributed The Truth About Drugs booklets over the course of the games, volunteers were constantly approached by passers-by to tell their stories, ask questions, or offer help.
One teenage girl abusing marijuana refused to take a booklet, but her friend began reading it out loud, insisting she hear the truth about what the drug would do to her in the long term.
One 18-year-old was worried about the drug problem in his country and wanted to take action, so he joined volunteers and distributed several hundred booklets, while others gathered up stacks to pass out in mailboxes and schools. One Swiss supporter approached a volunteer, hugged him and thanked him for bringing The Truth About Drugs to the games.
A young man who signed the Drug-Free World petition in Toulouse said he was starting a new life without drugs. He told the volunteers they should be proud.
---
TAKING ACTION
Teachers find creative ways to bring the Truth About Drugs home to students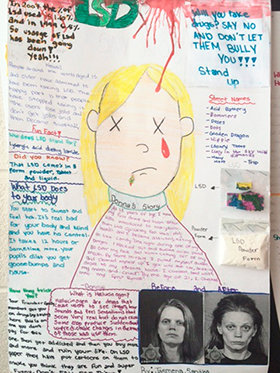 DRAWINGS—Some teachers find that having their students draw pictures of how drugs are dangerous proves effective, with children gaining greater understanding through their own artwork.
HOMEWORK—One fifth grade class gets homework to do their own in-depth research on a drug of choice and then write a short fiction story illustrating what happens to a person taking the drug.
TAKING IT TO THE STREETS—One teacher orders extra The Truth About Drugs booklets and sends his students onto the streets to distribute them. Turning the table makes the students responsible for the message. The shift in perspective for the youth can be dramatic!
TAG ALONG—One mother turned drug prevention educator takes a reformed drug dealer on the road with her to tell classes the tricks dealers use to get youth hooked and the possible deadly effects of these drugs.
---
PROTECT YOUNG LIVES
Support the Foundation for a Drug-Free World and help protect young lives from the destructive effects of drugs. Your contributions enable us to make our educational materials available free of charge to schools, youth organizations and other groups and individuals. Your support helps empower people with the facts they need to live healthy, drug-free lives.
---