AN ALLIANCE TO END DRUG ABUSE IN THE PHILIPPINES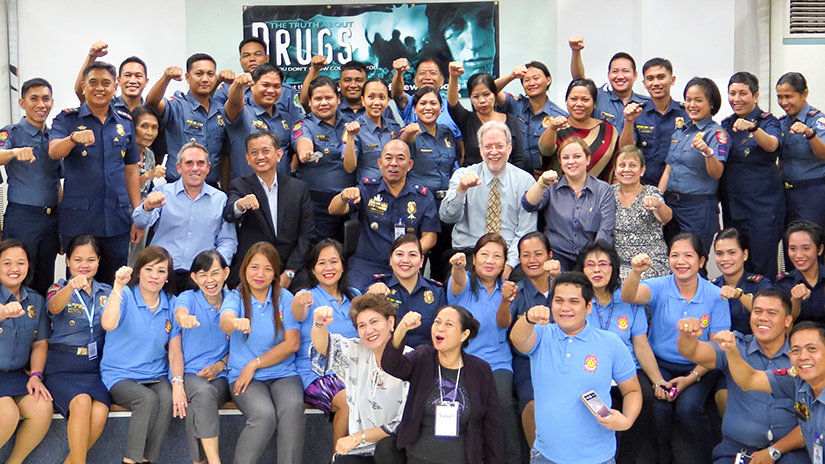 In a country beset by international drug trafficking and domestic drug abuse, the national police team up with Foundation for a Drug-Free World to pilot the solution.
With "porous borders" and the crannies of its archipelago, the Philippines is an easy target for drug traffickers to exploit. It is both a drug-consuming nation and a trans-shipment hub for methamphetamines, of which it boasts the highest usage rate in East Asia. According to the Dangerous Drugs Board, 1.8 million Filipinos are using illegal drugs.
"Drugs are a huge problem in the Philippines—it simply is a scourge," says Drug-Free World Ambassador Robert Anderson. "There is a big anti-drug push in the country and the police are the ones on the streets, so they want The Truth About Drugs."
Anderson organized a two-and-a-half-day pilot training for 100 Philippines National Police (PNP) officers in 2016. General Benjamin Macalong, PNP Deputy Director for Operations, officiated the launch.
The officers were taught to deliver the full Truth About Drugs curriculum and drilled on tough questions youth ask and real-life scenarios. It might be assumed all police are experts on drugs, but this is not so, says one PNP officer: "As a good father who doesn't drink alcohol or smoke cigarettes, I don't know about illegal drugs…. This seminar is very important for me."
In addition to learning to deliver the curriculum, the officers trained as trainers so that when they returned to their respective communities they were then able to train more officers to deliver the curriculum. To seed delivery, each graduate received a supply of The Truth About Drugs booklets in both English and Tagalog. On returning home, they got into immediate delivery to local schools and community groups.
Following this successful pilot, the PNP officially partnered with Drug-Free World for a national rollout of The Truth About Drugs program. Witnessing the pilot, the Philippines Drug Enforcement Agency and Dangerous Drugs Board joined the next training held in July 2017 to 107 people, who were then gotten into immediate delivery themselves.
From initial overwhelm at the drug problem, officers and officials graduated with hope and purpose. As one expressed, "Having this kind of training made me alarmed and gave me purpose to do something, something that can be beneficial to youth….Thank you very much to the members of the Foundation for a Drug-Free World for helping and supporting us—the Filipino people—to eradicate drug abuse.…This is something worthy to treasure and remember."
---
TAKING ACTION
Your Story Could Be Featured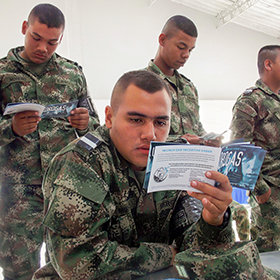 Do you enjoy reading stories of drug prevention and education implementation around the world? Have you ever wondered if your own story could be told?
Drug-Free World is a global network of educators, law enforcement, drug prevention specialists, parents and volunteers all tied together by their use of The Truth About Drugs materials and a common purpose to steer people toward a drug-free life. As you are reading this, you are already part of the team.
If you have successfully used The Truth About Drugs materials or curriculum and would like to share your challenges and successes with others, we'd like to hear from you for the possibility of being featured in a future newsletter.
Contact us. We will interview you by phone or email as needed and then write your story.
We are waiting to hear from you!
---
DONATE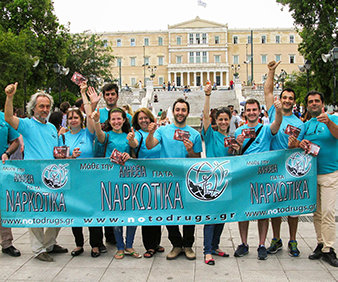 Support the Foundation for a Drug-Free World and help protect young lives from the destructive effects of drugs. Your contributions enable us to make our educational materials available free of charge to schools, youth organizations and other groups and individuals. Your support helps empower people with the facts they need to live healthy, drug-free lives.
---