PRO ATHLETES LEAD THE WAY TO BE DRUG-FREE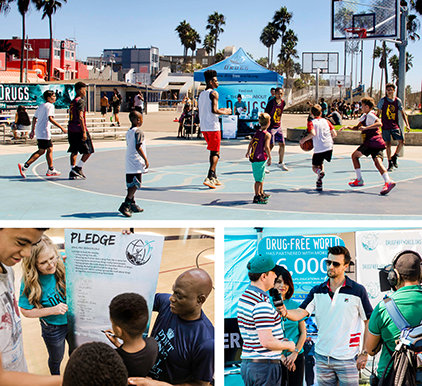 Elite athletes are people youth listen to, and now they are using that power to encourage them to pledge to steer clear of drugs.
When children were surveyed as to who they admired most, they said famous sports figures, second only to their parents. That is why professional athletes are perfect partners for Drug-Free World. They capture the hearts and minds of youth. What's more, pro athletes know that a key factor in their success has been leading a healthy life. They therefore want to "pay it forward" to the next generation of aspiring athletes, and many have their own nonprofit foundations or youth camps. When they find the Drug-Free World materials, it is love at first sight.
For 2018, it all started at the NFL (National Football League) Super Bowl 52 held in the bitter cold of Minneapolis, Minnesota. While the New England Patriots battled the Philadelphia Eagles, DFW volunteers battled below-freezing temperatures and heavy snow to distribute The Truth About Drugs booklets, reaching more than 220,000 football enthusiasts.
While inside, Drug-Free World booths graced many Super Bowl-related parties and events. This included the Wounded Warrior Amputee Football Team charity event and the Entrepreneur magazine and VaynerSports celebrity event, where Gary Vaynerchuk, head of VaynerSports and VaynerMedia, ordered his own Education Package.
Then there was the NFL Off the Field Players' Wives Association Fashion Show, where the president of the association acknowledged DFW as an official event sponsor. The event gift bags included the DFW booklet set with all 14 booklets, each covering a different drug, for the more than 300 attendees. At the Drew Rosenhaus Super Bowl Party and then the Leigh Steinberg Party, DFW was specifically acknowledged by Steinberg, who has represented more than 300 professional athletes in his 41-year career, and 151 DFW Education Packages were ordered.
Such was the reach for DFW materials by athletes for their foundations and humanitarian activities, that an invitation was received to attend the NBA (National Basketball Association) All-Star Game at the Staples Center in Los Angeles, California. A team of 70 volunteers distributed more than 30,000 booklets to basketball fans, while a booth was placed at the Legends All-Star Lounge, where 77 NBA players, current and retired, and coaches ordered a total of 414 Education Packages.
Professional athletes are perfect partners for Drug-Free World. They capture the hearts and minds of youth.
Naturally, this led to another invitation, this time at the 14th Annual Desert Smash charity tennis game held in La Quinta, California. The host of the game, tennis legend Serena Williams, visited the booth, while former top women's basketball player and four-time Olympic gold medalist Lisa Leslie posted a video on her own Facebook page promoting the DFW materials. One thing led to the next, and to reach not just current and past NFL players but future NFL players, a DFW booth was placed at the NFL draft event in Dallas, Texas. After being presented with the DFW anti-drug program, NFL draftees ordered 38 Education Packages.
Those events are just the highlights of a year of nonstop professional sports events and activities. But what does this all add up to? Reaching youth.
As but one example, Michael Cooper, Los Angeles Lakers legend and coach, after finding DFW at an event, adopted the campaign for his annual Coop Camp with 60 kids, where he was joined by Nancy Cartwright, the voice of Bart Simpson. Together they delivered a Truth About Drugs lecture to aspiring young athletes and had them pledge to live drug-free.
---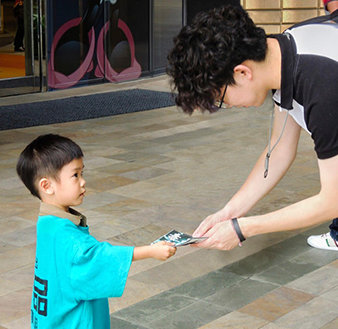 SAVE YOUNG LIVES
Support the Foundation for a Drug-Free World and help protect young lives from the destructive effects of drugs. Your contributions enable us to make our educational materials available free of charge to schools, youth organizations and other groups and individuals. Your support helps empower people with the facts they need to live healthy, drug-free lives.
---